Invisalign
45 minute consultation
Smile straightening you can trust. Clear, removable aligners, no one would even notice.
Or call: +65 6734 9393
Alternative Treatment- Smile Better with Invisalign Singapore
The modern alternative treatment for misaligned teeth. Being confident about how you look can lift your self-esteem, improve your outlook on life, and make you look like the bright, friendly person you are. You deserve to smile at your best. Our team at Specialist Dental Group is here to help you smile freely. We have provided the revolutionary Invisalign treatment to many of our patients in Singapore at our clinic in Orchard, and our team is qualified and experienced in its fitting, use and maintenance. If you're looking for an alternative to braces treatment, our dental specialists will guide you through this process.
---
Benefits of Invisalign
A popular and proven treatment option in Singapore and globally, Invisalign uses a series of clear aligners that are virtually invisible to align your teeth to the desired position. This treatment option offers several benefits, making it ideal for certain patients:
Virtually invisible: it is suitable for people who would like to realign teeth discreetly.
Minimal disruption to day-to-day activities: the aligners are removable, so you have the freedom to take it out whenever necessary (ie. When brushing your teeth or eating). It is also great for individuals with busy schedules as Invisalign potentially requires less frequent visits to the dentist.
Higher level of comfort: Invisalign uses the latest technologies to straighten teeth in a more comfortable manner.
---
Professional Practice in Singapore – Discover Your Best Smile with Invisalign
We work our best so that you can smile the way you want to – when you undergo our Invisalign treatment in Singapore, you can look forward to professional service underpinned by years of expertise.
Our clinics in Singapore have helped thousands of people just like yourself take control of their lives after undergoing treatments such as Invisalign. They have been able to eat, smile, talk and laugh confidently and comfortably. Whether you're considering wisdom tooth extractions, gum treatments and dental implants to replace missing teeth or simply are in need of a professional opinion on your overall dental health, we're here for you with expert advice.Contact us today via our enquiry form and we'll get back to you as soon as possible. You can also call us at (65) 3105 1779 (Mount Elizabeth Orchard) or (65) 6471 5150 (Gleneagles Medical Centre).
---
What is involved in Invisalign treatment in Singapore?
For our Invisalign treatment in Singapore, we bring the patient through a few stages, from consultation to after-care.
Our dental specialist/ dentist will find out the details of your medical and dental history, go through a consultation and examination and take digital X-rays of your teeth to enable a thorough and detailed diagnosis to ascertain if you are suitable for Invisalign.
If you are found to be suitable for Invisalign® treatment, an impression of your teeth will be taken as well as photographs of your teeth and facial profile. An impression of your teeth is also taken to fabricate the aligners. Our dental specialist/ dentist will create a comprehensive customised treatment plan for you.
Second visit
2 weeks later, the information previously submitted on your dental condition and your teeth impression will have been incorporated into the Clincheck 3-D software program. This software allows your dental specialist/ dentist to show you a 3-D visualization of your tooth movements and treatment outcomes. This software maps out a precise treatment plan, including the exact movements of your teeth and the approximate length of treatment. Changes can be made to the treatment plan at this point. Once the proposed plan is confirmed, your aligners will be fabricated at the Invisalign® Headquarters.
Third visit
4 to 6 weeks later, based on your individual treatment plan, a series of custom-made, clear aligners will be fabricated. These aligners are made of a smooth, comfortable, BPA-free plastic that do not irritate the cheeks and gums.A patient start-up and orthodontic care kit will also be given to you. Your dental specialist/ dentist will prescribe your aligners based on your treatment progress. You will need to wear the aligners throughout the day, and remove them when you eat or to brush and floss your teeth. As you wear each set of aligners, your teeth gently and gradually begin to shift into place.
Review visits
The first review visit will be approximately 2 to 3 weeks after you have started wearing the aligners. Your dental specialist/ dentist will check your aligners for fit and comfort.Subsequently, you will be given 2 to 3 sets of aligners. Each pair of aligners is worn for about 2 to 3 weeks before progressing to the next pair.You will sequentially move up each pair of aligners till the next review with your dental specialist/ dentist. Review visits are scheduled about 6 to 8 weeks apart.For best results and a timely outcome, you should wear your aligners throughout the day, unless you are eating and/ or drinking. Ideally, you should wear your aligners for 20 to 22 hours per day.Sometimes, your tooth may need to be filed down a little to obtain space to align the teeth. Tooth coloured composite attachments are also sometimes bonded to your teeth to obtain more control in certain tooth movements.
You should be able to resume your normal daily activities immediately with no down time. Some individuals may take a day or two to get used to the appliance in their mouths. There may be a general feeling of tightness as teeth are being shifted but the edges of the aligners should not cut you. Speech may be affected for the first couple of days, but you will get used to it and be able to speak normally with continuous wear.
Keep your aligners clean by brushing them with your toothbrush and toothpaste when you go about your daily oral regime. When rinsing your mouth, use cool water. Do not soak your aligners in any special solutions or hot water as it will cause the plastic to distort. Always carry your aligner case with you and keep your aligners in them upon removal to prevent losing, breaking or distorting them.
At the end of treatment, you will require retainers. They maintain your teeth in the corrected positions and are usually worn at night.
Your new smile requires the same care as your natural teeth – flossing, brushing and regular dental check-ups and maintenance every 6 months will ensure that your teeth and gums are healthy.
---
Invisalign treatment fee in Singapore?
Fees will depend on the treatment processes recommended based on the condition of your existing teeth.
Medisave does not apply to Invisalign treatment. However, if you are a Singaporean or Permanent Resident of Singapore, Medisave can be used for other dental treatments required such as wisdom teeth surgery.
For more details on Medisave coverage, please visit our Medisave page.
Wondering if Medisave can be used for this procedure?
Medisave does not apply to Invisalign treatment.
However, if you are a Singaporean or a permanent resident of Singapore, Medisave may be utilised for other treatments required, for instance, the removal of a wisdom tooth.
For more details on Medisave coverage, please visit our Medisave.
Other Fees
Depending on the individual, other treatments like wisdom teeth extraction may be required before one starts on Invisalign treatment. The fees incurred depend on the type and extent of treatment required.
The information provided above is of a general nature only as you would need to be examined by our dental specialists/ dentists in order to confirm the best treatment option for you.
| | |
| --- | --- |
| Consultation & Examination | $80 – 200 |
| 2 Digital x-rays (Orthopantomogram & Cephalometric x-rays) | $320 |
| Invisalign Lite (for mild cases, or relapse cases) | $6,500 – $6,700 |
| Invisalign Full | $9,800 onwards |
| Invisalign Teen | $9,800 onwards |
| Invisalign retainers (additional set by patient's request) | $1,000 |
*All fees are subject to prevailing Singapore Goods and Services Tax.
*All fees are subject to change without prior notice.
A deposit of SGD$3,000 is collected during the first visit after an impression of your teeth is made.
Another deposit of SGD$2,500 will be collected during the second visit, after you approve your 3-D visualization of your tooth movements.
Payment for the remaining balance is made during subsequent review visits in instalments of SGD$350 (or $450) each time.
Meet our orthodontist & dentist in Singapore
Smile straightening treatment by our internationally qualified orthodontics team.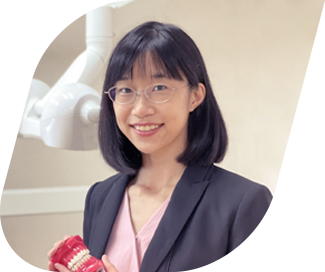 Field
Orthodontics
Training
USA
Qualified since
2012
Field
Orthodontics
Training
UK
Qualified since
2006
---
Frequently asked questions
What is Invisalign?

Invisalign straightens teeth using a series of custom-made, nearly invisible removable aligners.

Think of Invisalign as a contact lens for your teeth, one will barely notice you are wearing aligners that will move your teeth, bit by bit, towards their projected final position.
Is orthodontic treatment suitable for patients with diabetes, high blood pressure, heart problems or patients who are pregnant?

As long as the medical problem is under control and one is motivated about treatment, there is rarely a contraindication for orthodontic treatment. Digital x-rays are needed at the start and end of treatment and (sometimes) along the way. Orthodontic treatment is not harmful during pregnancy.
Does diet play a part in crooked teeth?

After orthodontic treatment is completed, you will need retainers to maintain your teeth in their corrected positions and prevent relapse (teeth moving back out of alignment).

Some retainers are removable and can be taken out of the mouth for eating, brushing and contact sports. There are also retainers that are fixed onto the back of your front teeth. Depending on the individual situation, our dental specialist/ dentists will prescribe the best option for you.

It is important that you wear your retainers faithfully. The removable retainers have to be worn full time daily for the first 6 months, followed by night time wear, gradually reducing this over time. Retainers can be easily maintained with simple brushing using a toothbrush and toothpaste and rinsed with tap water.

In addition, a 6-monthly ongoing dental follow-up helps to maintain optimal treatment results and overall dental health. Also, any issues (e.g. change of alignment) arising after completion of your braces treatment could be addressed promptly. Follow-ups can be done at the same time during your regular professional dental cleaning
I am an adult. Is it too late for me to wear braces/ Invisalign to correct my crooked teeth?

It is never too late. Scientific literature shows that orthodontic treatment in adults is feasible and predictable. As long as your gums are in good condition, orthodontic treatment is predictable. There are times that your dental team may need to clear up some existing dental concerns (e.g. cavities) before starting on orthodontic treatment.
Do I need to have my teeth extracted if I wear braces/ Invisalign?

It depends. We try not to extract teeth unless we see a clear indication. Sometimes, teeth can be aligned without the need for extractions. On the other hand, in some situations, extraction is one of the means to get the space required to align crooked teeth properly and achieve a pleasant facial profile.
My sibling has crooked teeth. Does this mean that I will also have crooked teeth too?

It depends. Certain hereditary traits such as small or big teeth, missing teeth, jaw size and jaw growth problems have strong genetic links. However, there are also other factors involved such as thumb-sucking or pacifier sucking past a certain age, mouth breathing, early loss of primary (milk) teeth and trauma that lead to crowding and misalignment of teeth.